8 July, 2022
BBBV-Calgary : Latest News
After a few weeks of maintenance, the BBBV-Calgary website is up and running again.
As a Volunteer: You have access to available volunteer opportunities in French as well as resources and workshops offered online and locally.
As an Organization: You can easily post your volunteer opportunities and receive and view applications from interested individuals.
If you don't have an account yet, now is the time to create your profile and stay informed about available volunteer opportunities that match your profile and interests.
---
Saint-Jean-Baptiste Day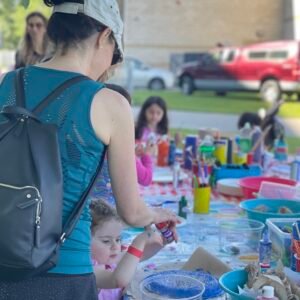 On June 25th 2022, BBBV-Calgary volunteers participated in the organization and smooth running of the Saint-Jean-Baptiste Day at the Cité des Rocheuses. They held several positions hosting and managing activity stations, allowing the community to join together in a warm and welcoming family atmosphere.
Committed to the growth of the Calgary Francophone community, our volunteers lent a hand to the Centre d'Appui Familial (Family Support Centre) and made possible for Francophone families to leave their homes and socialize after a long stretch of the pandemic.
As a vehicle of bonding and solidarity, volunteering allowed everyone to better the event with their diversity and expertise.
A big thank you to our invaluable volunteers for their participation and dedication!
---
New available volunteer opportunities
L'Alliance Française de Calgary is looking for volunteers
to help at its next Casino, on August 23rd and 24th 2022
at Pure Casino (Calgary). The funds they receive from this
event support their programs and allow them to continue
their work in the coming year.

The following positions are available:
– General Manager:
– Banker
– Cashier
– Chip Runner
– Count Room Supervisor
– Count Room Staff

For further details and to apply, please click on this link!

Title: Volunteer crisis responder

Description of work:
Kids Help Phone is currently looking for volunteers to help
with its crisis line (remote volunteering opportunity).

Volunteer crisis responders will respond to texts received
from youth in need of and looking for support. This is a
work from home position, meaning that you can work
this position from anywhere in Canada, as long as you
have access to a strong and reliable Internet connection.

If you are interested,
apply to this position by following this link!

Title: Nos Grands Amis

Description of work: The Centre d'Appui Familial (Family Support Centre) is looking for volunteers aged 12 to 18 to participate in the Nos Grands Amis (Friends of All Ages) program, focused on intergenerational solidary.

Details: Themed activities, ranging from athletic, cultural, leisurely, and creative will be organized and hosted by the volunteers according to their knowledge and skills over the course of 6 virtual sessions. (For example, an intro to dance, an intro to new technologies, a cooking recipe exchange,
and so much more.)

Volunteer profile:
Youth aged 12 to 18.

Every second Thursday, from 5pm to 6pm

If you are interested,
apply to this position by following this link!

Titre: Reading Buddies

Description of work: The Centre d'Appui Familial (Family Support Centre) is looking for volunteers to assist young readers in their Beginner Reading Club. Gift a child the
joy of reading!

Details: Assist children in choosing reading material that matches their interests and reading level, and listen to
them read. Guide them through their small challenges
in a positive manner. Motivate them during linguistic
ice-breaker group activities.

Volunteer profile:
– Students in year 7 and above with strong reading skills
– Adults

If you are interested,
apply to this position by following this link!
---
National Volunteer Week – Retrospective

On the occasion of National Volunteer Week 2022, ACFA Régionale de Calgary, through its
Bénévolat bilingue Bilingual Volunteer – BBBV-Calgary program, wishes to pay tribute to everyone that,
by gifting their time, their skills and their passion, strive day after day to reinforce the Francophone Community in the Greater Calgary Region.
To all of you, from the bottom of the community's heart, thank you.